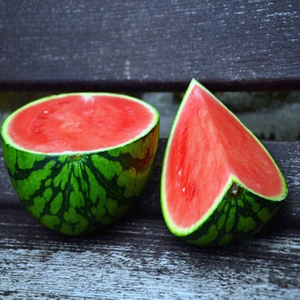 100 Heirloom Crimson Sweet Watermelon Seeds
Heirloom Watermelon Seeds - Crimson Sweet. 85 days. AAS Winner. Striped, nearly round, 15 to 25 pound melon with very sweet, crisp, crimson flesh and small seeds. Vines 6 to 10 feet. Hard rind stands up to shipping and handling. Resistant to Fusarium Wilt races 1&2, Anthracnose races 1&3
Sowing: In cool climates, Crimson Sweet watermelon seeds should be started indoors, but no sooner than a month before transplanting; plant three seeds per peat pot, 1/4" deep. Provide heat to keep the soil at least 80-85 degrees F. Cut off all but the strongest seedling as soon as true leaves appear, and transplant about a week after frost; put two or three plants in each hill with a 6-8' space in all directions. Gardeners in warm climates will be able to direct sow watermelons as soon as the soil temperature reaches at least 75 degrees F, planting six seeds per hill with 6-8' of space in all directions. Thin to the strongest two or three plants as soon as the seedlings appear. Watermelons should be planted in full sun and rich, loose soil. Young seedlings may benefit from black plastic to warm up the soil.
Growing: As soon as the vines begin to develop, apply a thick layer of mulch to control weeds and protect the melons from soil contact. Keep the soil moist until the fruit begins to grow, then water only if the soil dries out completely. Watch out for insect pests, which can be a problem. Crimson Sweet melons are disease and anthracnose-resistant, and inhibit fusarium wilt.



All multiple orders of the same seed are put in the same bag. For example if you order 500 beefsteak tomato seeds x 3 then 1500 seeds will be put in the same bag. We do not send out 3 individual bags with 500 in each. This goes for all seeds unless they are listings of different seeds.

NOTE: ALL GROWING INFO AND INSTRUCTIONS ARE ON ITEM PAGE.

If you can't find germinating and instructions online you can find them on the item page. Our goal is to save money everywhere we can so we can pass those savings on to you.

---
We Also Recommend