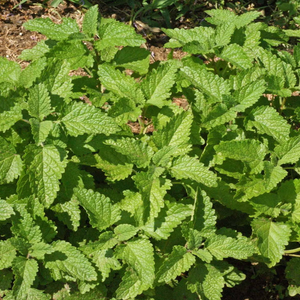 1oz Heirloom Lemon Balm Seeds Culinary Herb (Approx 47,000 Seeds)
Fresh leaves for tea and salads. Easy to grow. Mulch if winter goes below 0°F/-18°C. Lemon balm, with its lemon scent and flavor, is valued as a culinary, cosmetic and medicinal herb. Fresh sprigs are used to top drinks and as garnishes on salads and main dishes. Fresh or dried leaves make a refreshing tea, either iced or hot. Dried leaves are used as an ingredient in many potpourris and the oil is used in perfume.

LEMON BALM GROWING GUIDE

Transplant (recommended): Sow in flats 6-8 weeks before the last frost. Tamp the seeds lightly into the soil, as seeds require light to germinate, and mist lightly. Transplant to individual pots when the seedlings have 4 true leaves. After the last frost, transplant out, giving the plants 12" spacing.
Direct seed: Direct seed in the spring or early fall, sowing about one seed per inch. Tamp the seeds lightly into the soil, as the seeds require light to germinate, and keep moist until germination occurs. It is not necessary to thin, but if desired, the seedlings can be thinned to stand up to 12" apart in rows 2' apart. Mulch if the winter goes below 0°F (-18°C). 7-14 days for germination. 70 days to full maturity.



All multiple orders of the same seed are put in the same bag. For example if you order 500 beefsteak tomato seeds x 3 then 1500 seeds will be put in the same bag. We do not send out 3 individual bags with 500 in each. This goes for all seeds unless they are listings of different seeds.

NOTE: ALL GROWING INFO AND INSTRUCTIONS ARE ON ITEM PAGE.

If you can't find germinating and instructions online you can find them on the item page. Our goal is to save money everywhere we can so we can pass those savings on to you.