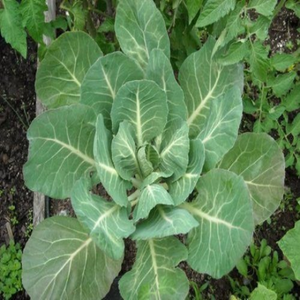 500 Georgia Southern Heirloom COLLARD Greens Seeds
Georgia Southern Collard Green Seeds. 70 days. Huge, cabbage-like, blue-green, slightly crumpled, juicy leaves. Non-heading type. Heat and cold tolerant. Mild cabbage-like flavor improves with light frost. Slow to bolt. 2 to 3 feet tall. High in Vitamin A, B1, B2, and C. Good freezing and canning variety.

Sowing: For a spring crop, direct sow the Georgia collard seeds 6-8 weeks before the last spring frost. For a fall crop, direct sow the Brassica Oleracea seeds 6-8 weeks before the first fall frost. For smaller plants, plant a few seeds every 12" and1/4 deep; later remove all but the strongest plant. If you need bigger plants, space them 2' apart. For companion planting benefits, plant collards with tomatoes.


All multiple orders of the same seed are put in the same bag. For example if you order 500 beefsteak tomato seeds x 3 then 1500 seeds will be put in the same bag. We do not send out 3 individual bags with 500 in each. This goes for all seeds unless they are listings of different seeds.

NOTE: ALL GROWING INFO AND INSTRUCTIONS ARE ON ITEM PAGE.

If you can't find germinating and instructions online you can find them on the item page. Our goal is to save money everywhere we can so we can pass those savings on to you.

---
We Also Recommend