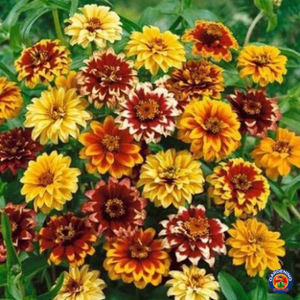 250 Persian Carpet Mexican Zinnia Seeds Haageana Mix
Persian Carpet makes a lovely ground-cover in flower beds and borders. Plants grow 12-16 inches tall, and flowers are 2 inches across in shades of red, yellow, orange and bi-colors. This variety has been around many decades and won the All American Selections award in 1952. The Best choice for Heat, Wind, and Drought Resistance!.

MORE INFO:

Name: Zinnia, Mexican 'Persian Carpet'
Scientific Name: Zinnia haageana
Color: Maroon/Orange/Red/Yellow
Hardiness Zones: 3-10
Plant Seeds: Outdoors After Frost or Indoors Weeks Before Last Frost
Plant Height: 12"-16"
Plant Spacing: 12" - 18"
Cycle: Annual
Bloom Season - Summer/Fall
Light Requirements: Full Sun
Soil & Water Preferences: Average
Other: Attracts bees, birds, & butterflies,

Sowing: Direct sow in spring; this seed germinates best in warm soil. Plant just below the surface and keep the soil lightly moist until germination, which usually occurs within 7-10 days. Seedlings do not transplant well.

Growing: Water seedlings regularly until they become established, but do not over water. Though they flourish with occasional watering in dry weather, mature plants tolerate some drought. This plant grows best in rich soil, and may need light fertilization for best blooming. Pinch off the growing stems to encourage bushiness, and deadhead to prolong blooming. This plant attracts butterflies and bees.



All multiple orders of the same seed are put in the same bag. For example if you order 500 beefsteak tomato seeds x 3 then 1500 seeds will be put in the same bag. We do not send out 3 individual bags with 500 in each. This goes for all seeds unless they are listings of different seeds.

NOTE: ALL GROWING INFO AND INSTRUCTIONS ARE ON ITEM PAGE.

If you can't find germinating and instructions online you can find them on the item page. Our goal is to save money everywhere we can so we can pass those savings on to you.

---
We Also Recommend