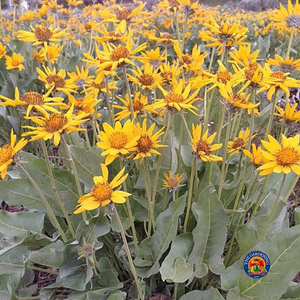 25 Arrowleaf Balsamroot Flower Seeds Balsamorhiza sagittata
Arrowleaf Balsamroot is a long-lived, tap-rooted perennial with arrowhead-shaped leaves and yellow sunflower like flowers. Useful for reclamation, pollinator and wildlife mixes. Arrowleaf Balsamroot is a spring blooming member of the sunflower family. The cheery yellow flowers give off a spicy fragrance.


MORE INFO:

Sowing: Since the arrowleaf balsamroot (Balsamorhiza sagittata) plant does not take transplanting well, it should be direct sown. In late fall, plant the seed 1/2" deep in full sun and well drained soil. Sow rather thickly, since germination rates will be naturally low; seeds should sprout within 6-10 days. For spring planting, stratify by mixing the seed with moist sand and storing in the refrigerator for 6-8 weeks; direct sow.

Growing: Keep seedlings free from weeds, and water occasionally in dry weather. The arrowleaf balsamroot plant develops rather slowly, but lasts for generations once established. Flowers may not appear until the second or third season of growth. After flowering, the plant will go dormant and turn brown until spring. If the winter soil is too wet, the roots may rot. This plant attracts bees and butterflies, and can be used for erosion control.



All multiple orders of the same seed are put in the same bag. For example if you order 500 beefsteak tomato seeds x 3 then 1500 seeds will be put in the same bag. We do not send out 3 individual bags with 500 in each. This goes for all seeds unless they are listings of different seeds.

NOTE: ALL GROWING INFO AND INSTRUCTIONS ARE ON ITEM PAGE.

If you can't find germinating and instructions online you can find them on the item page. Our goal is to save money everywhere we can so we can pass those savings on to you.

---
We Also Recommend