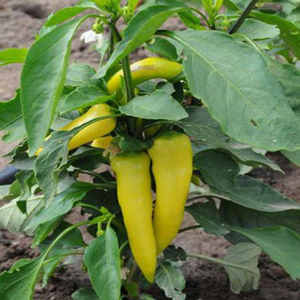 100 Organic Hungarian Sweet Wax Banana Pepper Seeds Heirloom
Hungarian Sweet Wax Banana Pepper Seeds. 70 days. 6 inch peppers have sweet, waxy flesh, tapering to a blunt tip. Ripens from light-green to yellow to red. A sweet pepper used pickled or in salads, the Hungarian Sweet Wax Pepper will produce light yellowish green peppers that will turn to orange then red when mature; just sow them in a sunny spot with well drained soil and enjoy a bountiful harvest.

Hungarian Sweet Wax Pepper Germination: Start pepper seeds indoors in peat pots about 8 weeks before the last expected spring frost. Sow them 1/4" deep and keep the soil at 80-85 degrees F until germination; provide sunlight or a grow light for 12-16 hours a day. When the outdoor temperature reaches 60-65 degrees F during the day and no less than 50 degrees F at night, transplant the seedlings 12-16" apart. Exposing the plants to the weather for several hours a day before transplanting may help prevent shock. Peppers also grow well in containers or raised beds.

Growing Hungarian Sweet Wax Pepper Seeds: Keep the soil evenly moist and weeds under control; mulching the plants may help with this. If excess heat and sun cause the plants to wilt, provide shade.




All multiple orders of the same seed are put in the same bag. For example if you order 500 beefsteak tomato seeds x 3 then 1500 seeds will be put in the same bag. We do not send out 3 individual bags with 500 in each. This goes for all seeds unless they are listings of different seeds.

NOTE: ALL GROWING INFO AND INSTRUCTIONS ARE ON ITEM PAGE.

If you can't find germinating and instructions online you can find them on the item page. Our goal is to save money everywhere we can so we can pass those savings on to you.
---
We Also Recommend