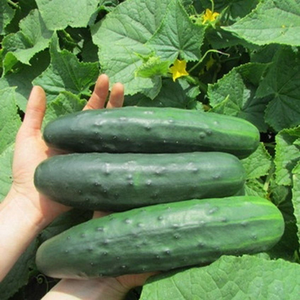 150 Marketmore 76 Slicing Cucumber Seeds Heirloom
Marketmore 76 Slicing Cucumber Seeds. Fruits grow to a size of 8 to 9 inches long and 2 ½ inches across. Their skin is smooth and dark while its flesh is light green and juicy.


***CUCUMBERS GROWING GUIDE BELOW***


Sowing: Cucumbers do not take well to transplanting, so either start them early in peat pots or plant them directly. Start them indoors about 2 weeks before frost, placing 3-4 seeds 1/2" deep in the pot. Keep the air temperature at least 80 degrees F. When two or three leaves appear on each plant, cut off all but the strongest plant with a scissors. Before planting them, "harden" the seedlings by setting them outside during the day. They should be planted no sooner than a week after the last spring frost, when the air temperatures consistently average 65-75 degrees F. For planting them in a hill, place three seedlings or 7-8 seeds in each hill; space hills 4-5' apart. If rows are preferrable, plant seedlings 1' apart or place 5 seeds within 1' and later thin them. Cucumbers love heat and cannot endure even a light frost; if cold temperatures threaten, cover the seedlings.
Growing: Marketmore cucumbers tend to be very disease resistant. Moisture is the key to growing excellent cucumbers; keep the soil consistently moist. When the vines have developed, apply mulch or straw to conserve moisture and control weeds. Watch out for cucumber beetles, and remove them immediately to prevent damage.


All multiple orders of the same seed are put in the same bag. For example if you order 500 beefsteak tomato seeds x 3 then 1500 seeds will be put in the same bag. We do not send out 3 individual bags with 500 in each. This goes for all seeds unless they are listings of different seeds.

NOTE: ALL GROWING INFO AND INSTRUCTIONS ARE ON ITEM PAGE.

If you can't find germinating and instructions online you can find them on the item page. Our goal is to save money everywhere we can so we can pass those savings on to you.
---
We Also Recommend