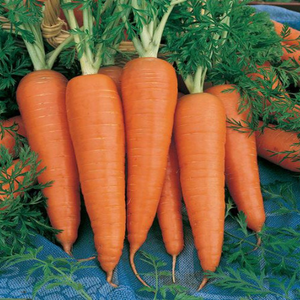 2000 Danvers 126 Carrot Seeds - Excellent Yields and Sweet
73 Days. Daucus carota var. sativus. Non-GMO. Heirloom. Annual. Non-GMO Danvers carrot seeds is a hardy 19th century American garden heirloom grown for its rugged tolerance to heavy, difficult soils. Cultivated and grown in Danvers, Massachusetts during the 1870's to give local farmers a chance against the cold and rocky soils of the northeast, Danvers heirloom carrot seeds were later improved in the 1940's for better vegetable yields and garden uniformity, signified by the number "126." Non-GMO Danvers 126 carrot seeds are grown for their shorter 6-7" long roots and infintely sweeter taste

***CARROT GROWING GUIDE BELOW***

Carrots are a popular root vegetable that are easy to grow in sandy soil. They are resistant to most pests and diseases, and are a good late season crop that can tolerate frost.

PLANTING

Plan to plant seeds outdoors 3 to 5 weeks before the last spring frost date.

Make sure your soil is free of stones; carrots need deeply tilled soil that they can push through.

Have you ever seen a carrot that has grown "legs" or forked? Fresh manure, or even recently applied rotted manure, can cause carrots to fork and send out little side roots. Don't use it before you plant your seeds.

Plant seeds 3-4 inches apart in rows. Rows should be at least a foot apart.



All multiple orders of the same seed are put in the same bag. For example if you order 500 beefsteak tomato seeds x 3 then 1500 seeds will be put in the same bag. We do not send out 3 individual bags with 500 in each. This goes for all seeds unless they are listings of different seeds.

NOTE: ALL GROWING INFO AND INSTRUCTIONS ARE ON ITEM PAGE.

If you can't find germinating and instructions online you can find them on the item page. Our goal is to save money everywhere we can so we can pass those savings on to you.

---
We Also Recommend