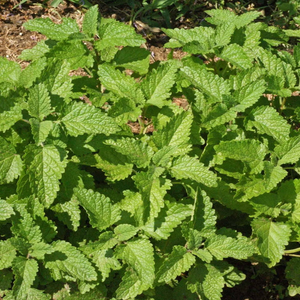 500 Heirloom Lemon Balm Seeds Herb
500 Lemon Balm Seeds Culinary Herb COMB S/H

Fresh leaves for tea and salads. Easy to grow. Mulch if winter goes below 0°F/-18°C. Lemon balm, with its lemon scent and flavor, is valued as a culinary, cosmetic and medicinal herb. Fresh sprigs are used to top drinks and as garnishes on salads and main dishes. Fresh or dried leaves make a refreshing tea, either iced or hot. Dried leaves are used as an ingredient in many potpourris and the oil is used in perfume.

LEMON BALM GROWING GUIDE

Sowing: To start lemon balm indoors in a flat, sow on the surface of soil about 6 weeks before the last spring frost; provide moderate heat, but keep away from the hottest rays of sunlight. For best results, water lightly with a spray bottle or something similar. Transplant outdoors as soon as the seedlings grow big enough to handle, or after the last spring frost. To direct sow after the last frost, plant the seeds on the surface of the soil and keep it evenly moist until germination, which should take place within 2-3 weeks. Lemon balm prefers well drained or sandy soil and partial shade, but can grow in full sun. With proper handling, lemon balm grows well in containers.



All multiple orders of the same seed are put in the same bag. For example if you order 500 beefsteak tomato seeds x 3 then 1500 seeds will be put in the same bag. We do not send out 3 individual bags with 500 in each. This goes for all seeds unless they are listings of different seeds.

NOTE: ALL GROWING INFO AND INSTRUCTIONS ARE ON ITEM PAGE.

If you can't find germinating and instructions online you can find them on the item page. Our goal is to save money everywhere we can so we can pass those savings on to you.

---
We Also Recommend