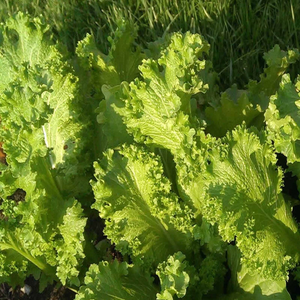 2000 Southern Giant Curled Mustard Greens Seeds
Mustard Greens Southern Giant Curled Seeds Heirloom. (Brassica juncea) Large, upright plants with crumpled leaves that have a delicious mustard taste; slow to bolt and very easy to grow. An old heirloom from the Southern U.S. and makes a mighty swell mess of greens.

***MUSTARD GREENS GROWING GUIDE BELOW***

Mustard greens have broad, wavy frilled leaves with longitudinal veins and a deep green color. The upright leaves are supported by coarse stems that can be quite fibrous when fully mature. Smaller leaves are considerably tenderer, while larger Mustard greens require cooking. They have a succulent yet crunchy texture and a robust flavor reminiscent of pepper and horseradish.

Mustard greens are also commonly referred to as Indian mustard, Chinese mustard, or leaf mustard, and botanically classified as Brassica juncea. It is a generic name that is applied to many different varieties, including white, green and red varieties. Mustard greens are of this genus should not be confused with those of the the Sinapis alba species, a completely different genus of mustard plants that is responsible for seed production used in making the eponymous condiment.

PLANTING

Mustard is cool-season leaf crop. Sow mustard as early as 4 to 6 weeks before the average last frost date in spring. Sow succession crops every 4 to 6 weeks. Mustard requires 30 to 40 days to reach harvest. Plant crops so that they come to harvest before temperature average greater than 75°F. Sow mustard in autumn or early winter in mild winter regions.

Seeds may be slow to germinate if the soil is too coo, 40°F or less. Mustard grown in hot weather or long days will bolt and go to seed.

Sow mustard seed ½ inch deep; when seedlings are large enough to handle thin them from 4 to 8 inches apart; space rows 12 to 24 inches apart.

Keep soil evenly moist to keep leaves growing quickly. Do not allow the soil to dry out. Add aged compost to planting beds before sowing. Side dress plants with aged compost at midseason.



All multiple orders of the same seed are put in the same bag. For example if you order 500 beefsteak tomato seeds x 3 then 1500 seeds will be put in the same bag. We do not send out 3 individual bags with 500 in each. This goes for all seeds unless they are listings of different seeds.

NOTE: ALL GROWING INFO AND INSTRUCTIONS ARE ON ITEM PAGE.

If you can't find germinating and instructions online you can find them on the item page. Our goal is to save money everywhere we can so we can pass those savings on to you.

---
We Also Recommend