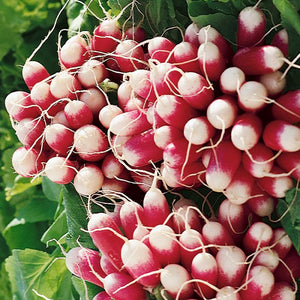 250 French Breakfast Radish Seeds Heirloom
Heirloom. Medium length scarlet roots with a white tip.


***RADISH GROWING GUIDE BELOW***

Radishes are a hardy, cool-season vegetable that can produce many crops each season due to its rapid days to maturity. Radishes can be planted in both the spring and the fall, but growing should be suspended in the warmer months. They are a very easy vegetable to grow.

PLANTING

Plant 4-6 weeks before the average date of last frost, after aged manure or organic fertilizer has been worked into soil.

Direct sow seeds ½ inch to an inch deep and one inch apart in rows 12 inches apart.

Thin to about 2-inch spacings. Crowded plants will not grow well.

Radishes need sun. If they are planted in too much shade—or even where neighboring vegetable plants shade them—they put all their energy into producing larger leaves.

Practice three-year crop rotation.

Plant consecutively every two weeks or so while weather is still cool for a continuous harvest of radishes.

Plan on a fall planting. You can plant radishes later than any other root crop in late summer or early fall and still get a harvest.

PLANT CARE

Radishes require well-drained soil with consistent moisture. Keep soil evenly moist but not waterlogged.

Thin radishes to about an inch apart when the plants are a week old. You will be amazed at the results.

PESTS/DISEASES

Cabbage Root Maggot

Clubroot

HARVEST/STORAGE

Radishes will be ready to harvest quite rapidly, as three weeks after planting for some varieties.

Do not leave in the ground long after mature stage, their condition will deteriorate quickly.

Cut the tops off short, wash the radishes and dry them thoroughly. Store in plastic bags in the refrigerator.

Radish greens can be stored separately for up to three days.



All multiple orders of the same seed are put in the same bag. For example if you order 500 beefsteak tomato seeds x 3 then 1500 seeds will be put in the same bag. We do not send out 3 individual bags with 500 in each. This goes for all seeds unless they are listings of different seeds.

NOTE: ALL GROWING INFO AND INSTRUCTIONS ARE ON ITEM PAGE.

If you can't find germinating and instructions online you can find them on the item page. Our goal is to save money everywhere we can so we can pass those savings on to you.

---
We Also Recommend