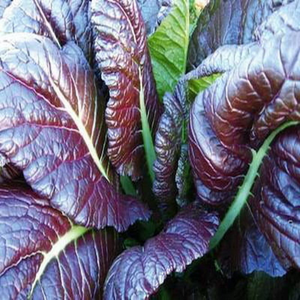 250 Organic Red Giant Heirloom Mustard Seeds
Red Giant Mustard Seeds. Heirloom, 60 days. Growing about 16 inches tall, with attractive purplish wavy leaves. Disease resistant and slow bolting. The unique, spicy flavor is excellent in mixed salads or straight as its own salad or wilted like spinach or chard.
All multiple orders of the same seed are put in the same bag. For example if you order 500 beefsteak tomato seeds x 3 then 1500 seeds will be put in the same bag. We do not send out 3 individual bags with 500 in each. This goes for all seeds unless they are listings of different seeds.
Plant seeds 1/4" deep. Sowing: Since mustard greens thrive in cool weather, they taste best when grown as an early spring or fall crop. For a spring crop, direct sow the seed in full sun and rich soil about four weeks before the last expected spring frost, and lightly rake them into the soil. Keep the rows 10-12" apart. When the seedlings emerge, thin them to 5-6" apart. For a continual harvest, plant more mustard every 10-14 days. For fall planting, plant the seeds in late summer or early fall about 10 weeks before the first hard frost. Climates with warmer winters may be able to grow mustard from fall to spring.
If you can't find germinating and instructions online you can find them on the item page. Our goal is to save money everywhere we can so we can pass those savings on to you.
---
We Also Recommend