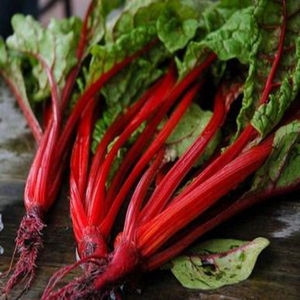 250 Heirloom Ruby Red Swiss Chard Seeds
Ruby Red Swiss Chard Beta Vulgaris Heirloom Seeds. Dark Green Shiny Mildly Savoyed Leaves With Red Veins And Bright Crimson Stalks Make This A Decorative Variety. Plants Grow 18-24 Inches Tall. Beta Vulgaris Var. Cicla. Also Known As Rhubarb Chard, Silverbeet, Perpetual Spinach. Biennial. 55 Days. 18" To 24" Height. 4-6" Spacing.

MORE INFO:

Name: Ruby Red Swiss Chard
Scientific Name: Beta Vulgaris Var Cicla
Other Common Names: Perpetual Spinach
Color: Dark Green Leaves, Red Veins, & Crimson Stalks
Plant Seeds: Outdoors After Frost / Indoors Weeks Before Last Frost
Harvest: 55 Days
Hardiness Zone: Biennial
Plant Height: 6" - 18"
Plant Spacing: 4" - 6"
Light Requirements: Part Shade, Full Sun
Soil & Water Preferences: Average

Sowing: Direct sow Swiss chard about a week after the last spring frost, planting it 1/2" deep in compost-enriched soil in full sun. For harvesting the entire plant, space the plants 4-5" apart; for continual harvesting of the outer stalks, space the plants 8-10" apart for larger growth. For a continuous summer crop, plant more Swiss chard every two weeks. Germination should occur in about a week. Swiss chard can survive light frosts, and can be planted as a fall crop.

All multiple orders of the same seed are put in the same bag. For example if you order 500 beefsteak tomato seeds x 3 then 1500 seeds will be put in the same bag. We do not send out 3 individual bags with 500 in each. This goes for all seeds unless they are listings of different seeds.

NOTE: ALL GROWING INFO AND INSTRUCTIONS ARE ON ITEM PAGE.

If you can't find germinating and instructions online you can find them on the item page. Our goal is to save money everywhere we can so we can pass those savings on to you.

---
We Also Recommend