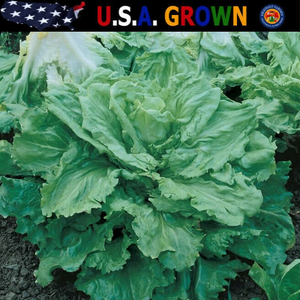 500 Broadleaf Batavian Endive Seeds Escarole
85 days — The leaves are lettuce-like, large, broad, and reach twelve to sixteen inches tall. Broad leaf endive varieties, or escarole, tend to be less bitter than the curly leaf endive varieties. It can be eaten like other greens either fresh as part of a green salad, or sauteed or chopped and added into soups and stews. Escarole type. Broad, slightly twisted outer leaves form around 12 to 16 inch, tight-packed heads. Very deep heart is well blanched, creamy-white, and buttery..

Sowing: Endive makes an excellent fall crop, since light frost sweetens the taste, and excess heat causes bitterness in the leaves or bolting. For an early summer crop, sow seeds indoors 2 months before the last spring frost; sow them 1/4" deep. When the seedlings emerge, thin them to 6" apart. Four weeks after planting them, set them outside 12" apart. For a fall crop, direct sow seeds in July. Water the ground, scatter the seeds on the surface, then cover with 1/3" of soil. When the seedlings emerge, thin them to 12" in all directions. Areas with warmer winters may be able to plant a winter crop about two months before the last frost.

Growing: Keep the soil moist to prevent toughness or a bitter taste, but avoid getting the leaves wet as this may cause rotting. Mulch helps conserve moisture and control weeds. If desired, blanch the leaves about 2-3 weeks before harvesting by tying together the outer leaves to shade the inner part of the plant. Make sure that the leaves of the plant are completely dry before tying them, or rotting may result.



All multiple orders of the same seed are put in the same bag. For example if you order 500 beefsteak tomato seeds x 3 then 1500 seeds will be put in the same bag. We do not send out 3 individual bags with 500 in each. This goes for all seeds unless they are listings of different seeds.

NOTE: ALL GROWING INFO AND INSTRUCTIONS ARE ON ITEM PAGE.

If you can't find germinating and instructions online you can find them on the item page. Our goal is to save money everywhere we can so we can pass those savings on to you.

---
We Also Recommend