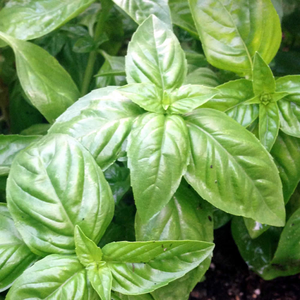 500 Italian Large Leaf Basil Herb Seeds
Italian Large Leaf Basil Herb Seeds (Ocimum basilicum). Annual. Traditional herb with white flowers common to the old world. Use in anything containing tomatoes or tomato sauce, also for meats, fish and vegetables. Easy to grow. Height, 24 inches.

***BASIL GROWING GUIDE BELOW***


Basil is a leafy, fragrant annual with a bushy appearance. The most common type of basil is sweet basil; other types include purple basil (less sweet than common basil), Lemon basil (lemon flavor), and Thai basil (licorice flavor). Basil is easy to grow and works well in Italian dishes, but it only grows in the summer, so plan accordingly.

PLANTING

To get a head start, start the seeds indoors 6 weeks before the last spring frost.

Ensure your outdoor site gets 6 to 8 hours of full Sun daily; soil should be moist and well-drained.

After the last frost date, plant the seeds/seedlings in the ground about ¼-inch deep. The soil should be around 70ºF for best growth.

Plant the seeds/seedlings about 10 to 12 inches apart. They should grow to about 12 to 24 inches in height. For smaller plants, plant farther apart (about 16 to 24 inches).

During the dry periods in summer, water the plants freely.

Remember to pinch out the flower heads as soon as they appear to make sure that the leaves will continue growing.

If you're planning on cooking with these plants, plant in clean soil (don't use fertilizers that leave harmful residues) and grow them away from driveways and busy streets so that exhaust won't settle on the plants.

Tomatoes make great neighbors for basil plants in the garden.



All multiple orders of the same seed are put in the same bag. For example if you order 500 beefsteak tomato seeds x 3 then 1500 seeds will be put in the same bag. We do not send out 3 individual bags with 500 in each. This goes for all seeds unless they are listings of different seeds.

NOTE: ALL GROWING INFO AND INSTRUCTIONS ARE ON ITEM PAGE.

If you can't find germinating and instructions online you can find them on the item page. Our goal is to save money everywhere we can so we can pass those savings on to you.

---
We Also Recommend