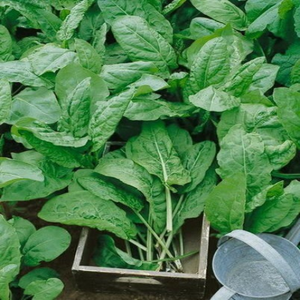 500 Large Leaf Heirloom Sorrel Seeds
Large Leaf Sorrel Rumex Acetosa Garden Seeds. Tart leaves have lemony taste. Used as potherb, in soups, salads, or to line baking vessel for fish. High in vitamin C. Frost-hardy perennial growing 1 to 2 feet tall can live for years. Plant seeds Outdoors after frost or Indoors weeks before last frost. 45 Days for baby leaves or 120 days to full maturity. Light requirements are Sun to light shade.


Large Leaf Sorrel Germination: Sorrel can be started indoors 3-4 weeks before the last spring frost. Sow the seed thinly 1/4" deep and press the soil down slightly to ensure good contact; germination should take place within 21 days. Transplant the seedlings in rich, well draining soil and full sun or partial shade after the last chance of frost, placing them 12-15" apart in rows 18" apart. For direct sowing, plant the seeds 4-6" apart and thin the seedlings to 12-15" apart. For a continuous harvest, sow a new crop every 2 weeks until the heat of summer. Sorrel can also be propagated by cuttings or root division.

Growing Large Leaf Sorrel Seeds: Keep the soil rich and moist for the best tasting leaves; a layer of mulch may help keep the soil cool, control weeds, and slow bolting. Removing the developing seed stalks also slows bolting; when the plant bolts, cut it off at ground level and it will produce a new crop of leaves. Watch out for slugs, which will harm the leaves. If grown as a perennial, sorrel will need to be covered thickly over the winter for protection. In the spring of its fourth year, sorrel plants may need to be dug up and divided to continue their healthy growth.

Detailed Large Leaf Sorrel Info: Rumex acetosa. Also known as Garden Sorrel, Sheep Sorrel, Dock, Sour Dock, De Belleville Sorrel. Perennial. 120 days. Zone 3-9. 18-24" height. 12-15" spacing. Produces large, arrow shaped green leaves.



All multiple orders of the same seed are put in the same bag. For example if you order 500 beefsteak tomato seeds x 3 then 1500 seeds will be put in the same bag. We do not send out 3 individual bags with 500 in each. This goes for all seeds unless they are listings of different seeds.

NOTE: ALL GROWING INFO AND INSTRUCTIONS ARE ON ITEM PAGE.

If you can't find germinating and instructions online you can find them on the item page. Our goal is to save money everywhere we can so we can pass those savings on to you.

---
We Also Recommend