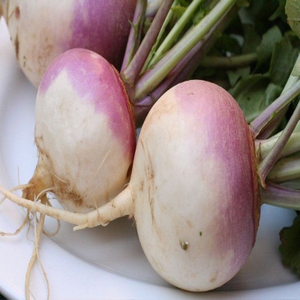 500 Purple Top White Globe Turnip Brassica Rapa Seeds
Turnips are easy to grow when planted in the right season and mature in just two months. They are biennials usually grown as annuals.


    Although turnips are more of a staple in European kitchens, many southern gardeners like to grow them for the nutritious turnip greens.

    Turnips grow best in a temperate climate but can endure light frost. Fall crops are usually sweeter and more tender than spring crops—and pests are less of a problem.

    Turnips have been grown for over 3,000 years, and are especially valuable because all parts of the plants can be eaten (the swollen root and the greens). They are often used as a substitute for potatoes.
    There are many varieties of summer squash to choose from, including zucchini. The main difference between winter and summer varieties is their harvest time; the longer growing period gives winter squash a tougher, inedible skin. Here are their various botanical names: Cucurbita pepo (Summer squash/Zucchini), C. maxima (True winter), C. pepo (Acorn, delicata, spaghetti) , C. moschata (butternut).

PLANTING

    Select a site that gets full Sun.

    Soil should be well-draining and loosened to a depth of 12 to 15 inches.

    Mix in a 2- to 4-inch layer of compost. Till soil well.

    Start sowing as soon as the ground is workable.

    Scatter turnip seed. Do not cover the seeds with more than ½ an inch of soil.

    Once seedlings are 4 inches high, thin "early" types 2 to 4 inches apart and maincrop types to 6 inches apart. Do not thin if growing for greens only.

PLANT CARE

    Keep the beds weed free.

    Mulch heavily.

    Water at a rate of 1 inch per week to prevent the roots from becoming tough and bitter.

PESTS/DISEASES

    Root Maggots

    Flea Beetles

    Powdery Mildew

    Downy Mildew

    Aphids



All multiple orders of the same seed are put in the same bag. For example if you order 500 beefsteak tomato seeds x 3 then 1500 seeds will be put in the same bag. We do not send out 3 individual bags with 500 in each. This goes for all seeds unless they are listings of different seeds.

NOTE: ALL GROWING INFO AND INSTRUCTIONS ARE ON ITEM PAGE.

If you can't find germinating and instructions online you can find them on the item page. Our goal is to save money everywhere we can so we can pass those savings on to you.

---
We Also Recommend