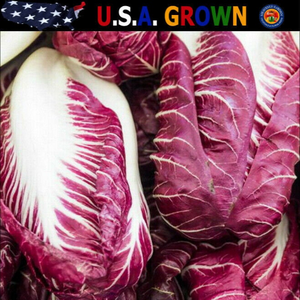 500 Radicchio Seeds - Rouge de Verona Vegetable Seeds
Hardy Biennial Rouge de Verona is a classic Italian radicchio in the chicory family. This is a Verona type, originally hailing from that region of Italy. Nicely bitter and spicy leaves become sweeter when cooked; a favorite Italian method is grilling this with olive oil. Raddicchio is a type of chicory so you can roast the roots and add the roots to coffee for a flavorful hot beverage. This must be forced to form a head. Early, elongated, green leaves turn red to form loose heads as days shorten. Possibly overwinter outside. Planting Instructions Germination: 7 to 10 days at 75 to 85 F. Plant seeds 1/4 inch deep with 1 to 3 inches between

Soil Temperature: 60-70°F
Planting Depth: 1/4"
Germination: 6-18 Days
Height At Maturity: 4"-5"
Days to Maturity: 80-85 Days
Sun/Shade: Full sun/Part shade
Spacing After Thinning: 10"-12"

*** ()***

Sowing: In early spring, plant just below the surface of the soil. This seed germinates best at temperatures from 40-55 degrees F (4-13 degrees C). Keep the soil lightly moist until germination occurs, which usually takes place within 7-10 days. This seed also germinates well in late fall for a late season crop.

Growing: Water occasionally and keep weeds down. This plant grows well in many soil types, and tolerates cold temperatures very well. It also grows well in containers.



All multiple orders of the same seed are put in the same bag. For example if you order 500 beefsteak tomato seeds x 3 then 1500 seeds will be put in the same bag. We do not send out 3 individual bags with 500 in each. This goes for all seeds unless they are listings of different seeds.

NOTE: ALL GROWING INFO AND INSTRUCTIONS ARE ON ITEM PAGE.

If you can't find germinating and instructions online you can find them on the item page. Our goal is to save money everywhere we can so we can pass those savings on to you.

---
We Also Recommend