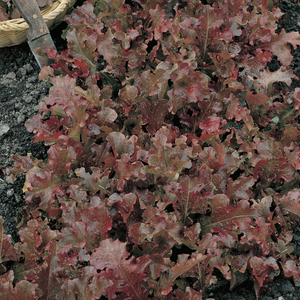 500 Red Salad Bowl Leaf Lettuce Seeds
Non-GMO Buttercrunch Lettuce (Lactuca sativa), is also called Butterhead Lettuce because of its buttery texture and delicious flavor. Can be grown in most zones but prefers cooler climates. Lettuce is rich in nutrients and easy to grow. Annual. 65 days. 6-12" height. 8-10" spacing.


***LETTUCE GROWING GUIDE BELOW***


Sowing: Lettuce grows well in cool weather, so the first crop can be direct sown when the soil temperature reaches at least 35 degrees F, or as soon as the soil can be worked. If the soil temperature rises above 75 degrees F, red salad bowl oak leaf lettuce seeds become dormant. Direct sow the seed in rich soil and full sun, spreading them as thinly as possible in rows 1-2' apart; when the seedlings begin to grow, thin them to a distance of 6-8". Succession crops can be grown for fresh lettuce all season in areas with cool summers or warm winters; this is accomplished by planting a new crop every 2 weeks. For companion planting benefits, grow red salad bowl oak leaf lettuce seeds with onions, cucumbers, or carrots.

Growing: Since lettuce has very shallow roots, it needs adequate moisture in order to stay tender and sweet; keep the soil evenly moist. Applying mulch helps conserve moisture and control weeds.



All multiple orders of the same seed are put in the same bag. For example if you order 500 beefsteak tomato seeds x 3 then 1500 seeds will be put in the same bag. We do not send out 3 individual bags with 500 in each. This goes for all seeds unless they are listings of different seeds.

NOTE: ALL GROWING INFO AND INSTRUCTIONS ARE ON ITEM PAGE.

If you can't find germinating and instructions online you can find them on the item page. Our goal is to save money everywhere we can so we can pass those savings on to you.

---
We Also Recommend