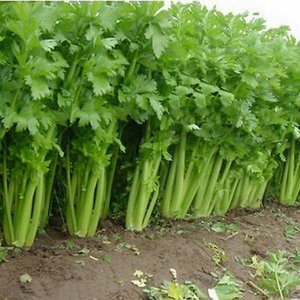 1000 Tall Utah 52-70 Celery Seeds
Popular and widely adapted, Tall Utah 52/70 celery plants grow to 30" tall and produce long smooth stalks with crisp, tender texture. Good heart development, strong roots and good disease tolerance. Plants will bolt in cold weather. Approximately 100 days to maturity.

**********

***GROWING INFO BELOW***

Celery grows best as a fall crop in most climates, so start your seeds about 10 weeks before the last spring frost. Soak them overnight to speed germination, then sow them in a flat in rows 1" apart; keep the soil moist and keep the flat out of direct sun. Germination often takes two or three weeks. When the plants reach about 2" tall, transplant them into pots; set them out in the garden when they reach 6" tall or after the last frost date. Space them 6-8" apart in rows 2-3' apart, putting them at the same soil level as in the pots. Make sure the soil is enriched with compost or other organic matter. For companion planting benefits, plant celery with tomatoes, cauliflower, or cabbage.

Provide water each week; feed them with compost or fertilizer every two weeks. Carefully remove weeds. If the temperature falls below 55 degrees F consistently, cover the plants. Growing success for celery depends on plentiful moisture, enriched soil, and protection from high temperatures and sun. For a sweeter, more tender taste, many gardeners blanch their celery about two weeks before harvesting it; this is accomplished by wrapping newspaper around the stalks up to the point where the leaves begin. Other methods use boards to shield the stalks from the sun, or simply mound dirt up to cover the stalks.



All multiple orders of the same seed are put in the same bag. For example if you order 500 beefsteak tomato seeds x 3 then 1500 seeds will be put in the same bag. We do not send out 3 individual bags with 500 in each. This goes for all seeds unless they are listings of different seeds.

NOTE: ALL GROWING INFO AND INSTRUCTIONS ARE ON ITEM PAGE.

If you can't find germinating and instructions online you can find them on the item page. Our goal is to save money everywhere we can so we can pass those savings on to you.

---
We Also Recommend