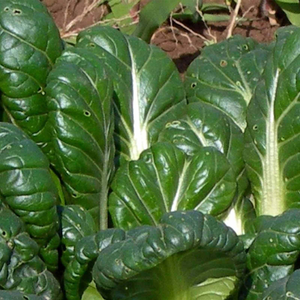 500 Tatsoi Mustard Chinese Cabbage Seeds Heirloom brassica rapa narinosa
Tatsoi (Brassica rapa subsp. narinosa or Brassica rapa var. rosularis is an Asian variety of Brassica rapa grown for greens. This plant has become popular in North American cuisine as well, and is now grown throughout the world.

The plant has dark green spoon-shaped leaves which form a thick rosette. It has a soft creamy texture and has a subtle yet distinctive flavour.

It can be grown to harvestable size in 45–50 days, and can withstand temperatures down to –10 °C (15 °F). Tatsoi can be harvested even from under the snow.

50 days. This mustard grows in rosettes of dark green, spoon-shaped leaves. Easy to grow. Excellent in a salad or a stir-fry.

Sowing: Prepare the soil with compost or organic matter; Chinese cabbage prefers full sun or partial shade, and grow best in temperatures from 45-75 F (7-24 C). Direct seeding works best, about 4-6 weeks before the last average spring frost date. Plant seeds about 12" apart in rows about 12" apart; germination should take place in about 10 days. For a fall crop, direct sow in July.

Growing: Keep the soil evenly moist for the healthiest growth. If the sun gets too hot, Chinese cabbage tends to "bolt" or go to seed; in long periods of heat, some kind of shade may be helpful.



All multiple orders of the same seed are put in the same bag. For example if you order 500 beefsteak tomato seeds x 3 then 1500 seeds will be put in the same bag. We do not send out 3 individual bags with 500 in each. This goes for all seeds unless they are listings of different seeds.

NOTE: ALL GROWING INFO AND INSTRUCTIONS ARE ON ITEM PAGE.

If you can't find germinating and instructions online you can find them on the item page. Our goal is to save money everywhere we can so we can pass those savings on to you.

---
We Also Recommend