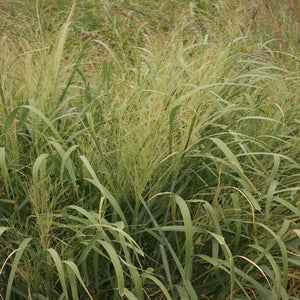 1000 Switchgrass Switch Grass Seeds 'Kanlow' Panicum virgatum
Switchgrass 'Kanlow' is a rhizomatous, warm-season bunchgrass that is native throughout most of the U.S. It is a major component of the Tallgrass Prairie ecosystem. Kanlow originates from lowland sites near Wetumka, Oklahoma. It works best in moister soils and is especially good for biofuel production. Also recommended for pasture mixes, erosion control and soil stabilization. Provides good nesting habitat, cover and food for many different types of wildlife.


MORE INFO:

Sowing: Direct sow either in late fall or early spring. Plant the seed just below the surface of the soil, compacting the soil very firmly. Keep the soil lightly moist until germination, since this seed cannot germinate in dry soil.

Growing: Water seedlings regularly until they become established. This plant adapts well to either dry or moist soil, as well as tolerating drought and heat well. It also adapts well to various soil types such as sand and clay. It will eventually spread by rhizomes and self-seeding. This plant makes an very good choice for erosion control, and also provides forage and cover for birds and other wildlife. It is an excellent ornamental grass, and grows well in marshy areas as well as prairies.


Hardiness Zones - 2-12

All multiple orders of the same seed are put in the same bag. For example if you order 500 beefsteak tomato seeds x 3 then 1500 seeds will be put in the same bag. We do not send out 3 individual bags with 500 in each. This goes for all seeds unless they are listings of different seeds.

NOTE: ALL GROWING INFO AND INSTRUCTIONS ARE ON ITEM PAGE.

If you can't find germinating and instructions online you can find them on the item page. Our goal is to save money everywhere we can so we can pass those savings on to you.

---
We Also Recommend