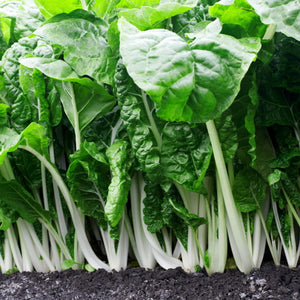 500 Fordhook Swiss Chard Seeds Heirloom
Fordhook Swiss Chard is a standard green chard variety that grows up to 24" tall. It produces large green crumpled leaves with white veins and broad white 2.5" stems. The stems are somewhat like celery, and the leaves are wonderfully tender and juicy. It reaches full size at 55 days but can also be harvested sooner for baby leaf.

All multiple orders of the same seed are put in the same bag. For example if you order 500 beefsteak tomato seeds x 3 then 1500 seeds will be put in the same bag. We do not send out 3 individual bags with 500 in each. This goes for all seeds unless they are listings of different seeds.

NOTE: ALL GROWING INFO AND INSTRUCTIONS ARE ON ITEM PAGE.

Sowing: Direct sow Swiss chard about a week after the last spring frost, planting it 1/2" deep in compost-enriched soil in full sun. For harvesting the entire plant, space the plants 4-5" apart; for continual harvesting of the outer stalks, space the plants 8-10" apart for larger growth. For a continuous summer crop, plant more Swiss chard every two weeks. Germination should occur in about a week. Swiss chard can survive light frosts, and can be planted as a fall crop.

Growing: Keep the soil evenly moist and weed free with a layer of mulch. Moisture is especially crucial to the seedlings in the first stages of their growth.

---
We Also Recommend