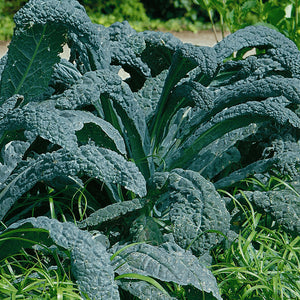 500 Lacinato Kale Seeds Heirloom
Sowing: Since kale thrives in cool weather and sweetens with frost, it grows best as a fall crop. For an earlier crop in areas with a cool summer, sow the Lacinato kale seeds for sale in early spring; plant three seeds in a cluster, 1/2" deep and 16-18" apart in rows 2-3' apart. Thin the clusters to the strongest plant when the seedlings emerge. Kale appreciate very rich, moist soil that drains well, since they taste best when allowed to grow quickly. For a fall crop, plant the seeds in the same way about three months before the first expected frost. For companion planting benefits, plant Lacinato kale seeds for sale with cabbage or potatoes.


All multiple orders of the same seed are put in the same bag. For example if you order 500 beefsteak tomato seeds x 3 then 1500 seeds will be put in the same bag. We do not send out 3 individual bags with 500 in each. This goes for all seeds unless they are listings of different seeds.

NOTE: ALL GROWING INFO AND INSTRUCTIONS ARE ON ITEM PAGE.

If you can't find germinating and instructions online you can find them on the item page. Our goal is to save money everywhere we can so we can pass those savings on to you.

---
We Also Recommend